I had a lot of work planned for today. Note that "had"? I should be saying "have" but my friend Fenella popped round yesterday with some of her sourdough wheat starter. Now I want to make time and space to start some bread, of course.
The laundry is on, and the second load is lined up. Lunch is planned and in hand. Watch this space, I might just make it! Available time is a tight, but I can always pop the dough in the fridge overnight… the starter was fed on Wednesday night so should be good to go today, it's a shame to waste the opportunity.
Fenella is Nell's other mum, but she hasn't seen Nell in a long time. They both seemed pleased to see each other. There was much tail wagging and patting and Nell was declared to be a lovely dog. Why this surprised Fenella I do not know, as Nell was bred from two of her other lovely dogs. Fenella told me that Nell's dad has to go and see the doggy doctor today. I do hope that he is OK. Pete is his name. Pete is 12 years old, and getting on a bit now, so we have fingers and paws crossed for him.
But, I digress.
I was checking out the Lakeland Sale last night and making a small order… well, large enough to get free postage anyway. There are some ceramic baking goodies coming, a waffle pan (on sale at £9.99), and a baguette tray. While I was pootling about, I was very taken by this particular answer to a bread-baking maiden's prayer: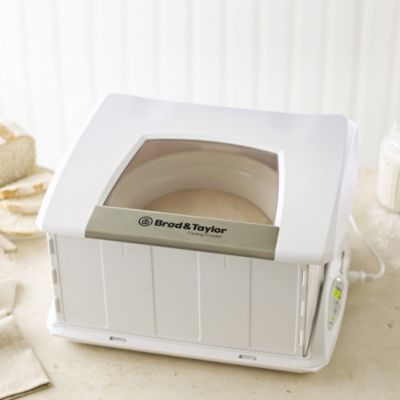 and I spent much of last evening Googling and watching demo videos. There seems to be a really good buzz about the proofer and plenty of positive reviews.
This is one of four videos that also act as a  useful tutorial in making sourdough  baguettes!
I am tempted to say that there is a problem with the price point, £149.99, as Lakeland have an exclusive on these just now, but that's the usual Pound-per-Dollar that we  have to contend with normally. Amazon.com have them at $148. All the same, I am sure there will be a slightly better price when the exclusive deal comes off. Then again… Lakeland do free delivery up here and that's worth a lot.
Please Santa, I know that it is very early in the year but I thought maybe, if I got my request in soon enough, please may I have one? My kitchen is awfu' cold at the best of times and in Winter, it's terrible, I have to prove my dough in the office in the server cupboard and the flour is  not good for the server… or the router. It's not just a fancy gadget you know, up here in Orkney we only hit the mid-sixties Fahrenheit in mid-Summer most of the time. They tell me that 75°F is optimum… in fact my Italian bread book talks about cooling the kitchen down to that temperature. Ha! As if that is ever going to happen! We once hit 73 outside (in 2009), but that was freakish.
I asked Mr L if we could rig up a box with two 100 watt light bulbs but… well… you know…  sometimes a girl wants the good stuff.
I wonder if our flour-buying circle would like to get one to share…